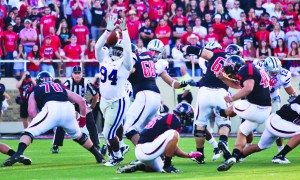 Six games in, six wins later, and the Kansas State Wildcats have gone from preseason bowl hopeful to the third-highest Big 12 team in the BCS rankings behind heavy hitters Oklahoma and Oklahoma State (and ahead of Nebraska, which isn't in the Big 12 anymore, of course, but, well...bwahahahaha).
Usually, when a team wins six in a row to start a season, the detractors begin to wane, but not this time. In fact, they seem to be growing as K-State continues to navigate its season. Perhaps rightfully so, those who don't believe in what Bill Snyder and his players have done thus far point to statistics, a couple of key home games to start the conference season and, at times, both in Manhattan and on the road, some really good luck. 
It hasn't been easy, but it's been exciting. And so, six games through this surprising season, let's look at what I think have been the six biggest surprises to date.