Raphielle Johnson
, one of our righteous dudes over at
CollegeHoopsNet
, put it best today when, in describing the start of conference play, tweeted, "Some leagues started in early December, but frankly three words sums it all up: s*** gets real." Indeed.
So, here in Big 12 country, here are two factoids to consider as things get cranked up with Baylor hosting Texas A&M on Big Monday (Jan. 2): The Big 12 has sent six different teams to the Elite Eight in the past three seasons - the most of any conference. Also, it has earned 80 NCAA bids in its history, including 24 in the past four campaigns. That said, here are the five biggest stories I'll have my eye on as we roll into January.
1) Can Missouri finish what it has started?
-- I'll have a more intensive look at what the Tigers have done and what they will face as Big 12 play starts next week, but this is by far the top storyline to start. As late as October,
many Tigers fans were sure about Frank Haith
- sure that they wanted him out before he ever coached a game in Columbia. But then, 12 wins by a nation's best 27.7 point-margin (through 12/18) and a Top 10 ranking happened. And now, MU fans are letting themselves think Marcus Denmon, Kim English and the rest could net them a Big 12 Championship in their send-off season.
2) Between Kansas and Texas A&M, who best sheds their ugly nonconference coat? -- While teams like Missouri set out firing on all cylinders, a couple of others thought to be the Tigers' superiors appear to be leaking a little oil already. Officially, Kansas has lost only to No. 3 Kentucky, No. 3/5 Duke and Davidson (in Kansas City), and not in blowout fashion. However, it is clear guard play is going to be an on-going concern for Bill Self, on both ends of the floor. And, inside, Jeff Withey is by far the best second option behind Thomas Robinson. I'll just let that hang there for a minute...
So, as KU tries to figure itself out, so will Texas A&M. The Aggies were believed to be a vastly veteran group that basically needed only a light guiding influence from Billy Kennedy. Squeaking out a win in New York against St. John's didn't calm any fears, and back-to-back losses (a crusher at Florida and then at home to lowly Rice) the past two games has A&M sitting 8-3 with huge questions standing in front of them. True, the Aggies aren't letting teams score, but they are aw-ful at getting points themselves, and the opposition's talent level is about to skyrocket past the likes of Alcorn St. (0-7), Stephen F. Austin (2-7), Sam Houston St. (1-8) and Louisiana-Monroe (1-11).
It hasn't been smooth sailing so far for Bill Self
and KU in the non-con...and now, here comes Big 12 play.
At this point, a decided advantage between the two goes to Kansas in terms of who I think is best suited to take on/survive the Big 12, but an ill-timed KU injury to the wrong guy is about all that separates that thought. It's a fine line.
3) Does K-State find offensive consistency?
-- Effort and defense haven't ever been the question in Manhattan under Frank Martin. The same is true so far this year as the Wildcats have allowed 70 points or more only twice in 11 games and 61 or less in seven of those. (West Virginia needed two overtimes to score 85, and UTEP scored 70 in Hawaii.) The trick to this season's squad having Big 12 success is whether KSU can fill up the basket. At the Diamond Head Classic,
the guards shot lights out from 3-pt range
and others stepped up as well while the team averaged over 44 points in the first half during the tourney. It allowed the Cats to open up sizable leads and then do what they do best in choking the opposition into submission. That formula looked quite good on the 'Cats, and it will be interesting to see if they are able to use it beginning in Lawrence next week. Bottom line is if KSU scores consistently, it is one of the top two or three teams in the league. If offense is a fleeting issue, K-State could find itself in the fourth-sixth mess, where teams are always a game or so apart.
4) Is Oklahoma the hidden "Tremors" monster? -- Lon Kruger was going to fix things in Norman; we all knew that. But, most would have guessed his process would take 10 months as opposed to 10 games. The Sooners are 9-1, with noticeable wins over Washington State and Arkansas by 15 apiece. No, those aren't wins noticeable for a program looking to make noise in March, but for a team that averaged 14.5 wins the past two years under Jeff Capel, they look fantastic. Better still is the structure that Kruger has already implemented. It has led to open 3s, which the Sooners are knocking down (43.2 percent as of 12/18 - fifth nationally), and OU is hitting its free throws at a 74.2-percent level right now, too. OU isn't great at anything, necessarily, but it is suddenly good enough that if a team thinks it can mail one in, it will get caught by the monster under its feet.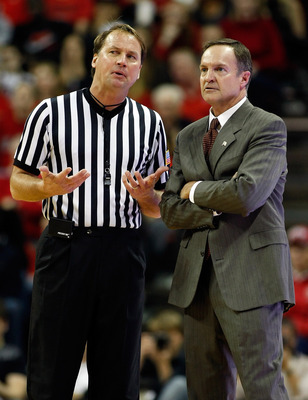 Expect Big 12 coaches to do a lot of this
with John Higgins again this season.
5) Does Travis Ford's seat stay warm or get hot?
-- It isn't like anyone expected Oklahoma State to be world beaters this season. The Big 12 coaches said as much in their preseason prediction of seventh for OSU. Regardless, it looks like the Cowboys are setting up for a so-so, or likely worse, conference season as only one of its wins has come against a .500 or better team (Missouri St., which at 112, also has the
highest current RPI ranking
). The past two years saw OSU go from 9-7 to 6-10 last season in Big 12 play, meaning another sub-.500 season would likely rankle more than a few feathers despite the promise of
Marcus Smart
coming in next season.
Bonus) How many games will John Higgins affect? -- Let's have some fun with this one. Invariably, if there is one unifying cause among all Big 12 schools, it is that every fan base has its own "favorite" Higgins story. Maybe it was the way he dashed up the lane and thrust his hand forward on a charge call. Or, it was the way his wavy hair stayed in perfect shape as he bounced in order to punctuate a travel. Whatever it is, you know he'll be in the middle of some pretty important games because big moment + TV = face time. By the end of the year, I'll set the over/under at 4.5 on how many new Higgins favorite moments we will add to the Big 12's history book. Leave your story, and your guess, below.