There are few things more fascinating than watching an entire sport try and throw its five-speed transmission from top gear into reverse this late into the season. But, that's what Kansas State quarterback Klein has forced upon college football. In 11 weeks, less than four months, he has moved a collective mindset from "liability only" to nice story to solid player to "why shouldn't he be a Heisman candidate?"
Oh, and his team has smashed nearly every five or
maybe
six-win preseason prognostication along the way.
It is incredibly heady stuff, and it's entirely admirable considering the avalanche of recent respect and recognition has come to a player who is no longer able to hide the physical toll endured by carrying the offense and changing perception.
Through the season, Klein has been dragged into "honey badger" mania by a couple members of the media and some of his teammates. Maybe it fits, maybe it doesn't, but really, "honey badges" might actually be closer to true.
Just before he and the rest of the K-State offense took the field for what would prove to be the final time in KSU's 53-50 win in four overtimes against Texas A&M, Klein's elbows showed (at the time) 31 carries worth of wear - badges held on more by soaked-through blood than adhesive. Still, it was Klein who would eventually cross the goal line, for the fifth time in the game and 24th time this season, and open in earnest national talk of his magical season because that's what wins do.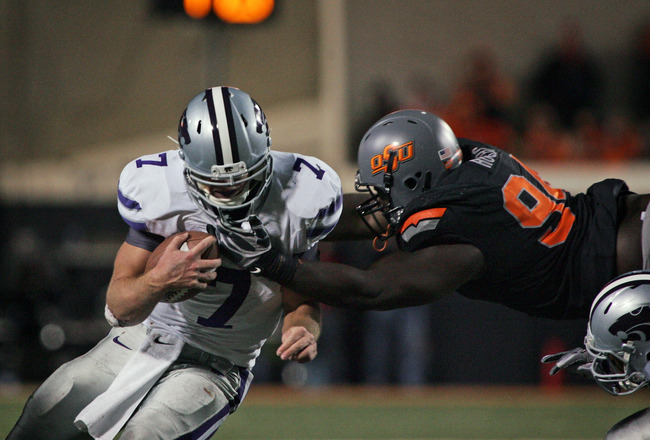 Wins conjure legend, and that is what Klein has become. The guy who couldn't unseat Carson Coffman (who threw and rushed for 29 touchdowns...over four years) has put up 34 total TDs, so far, helped guide his team to an 8-2 start and become the stuff of K-State lore.
At his current pace, Klein would wind up with somewhere near 45 TDs - just 14 short of Tim Tebow's unfathomable, Heisman-winning, sophomore season when he put up 59. When you stop and put those numbers in perspective, it becomes possible to think of Klein this way: He is no longer "project" or "wish we had someone else" Klein. He is K-State and
possibly FBS record-holder
Klein. He is the latest K-State diamond to come out the lightly-regarded, lightly-recruited rough (and, to be fair, he was
brought to the program by Ron Prince and staff
).
Yes, last Saturday marked a lot of things for K-State. It snuffed out a two-game losing streak. It, again, stuffed a victory banana into Las Vegas' patrol car tailpipe.** It saw a weary defense show well for the most part against a Texas A&M offense that had been on a major roll. It also forced the college football nation to realize just how good quarterback Collin Klein has become.
**Extra credit if you caught the Beverly Hills Cop reference.
Looking back, this season will get its due recognition. The preseason honors and watch lists in 2012 will have Klein in mind, and high expectations will be in place for an offense that should return all key pieces aside from a couple of offensive linemen.
But, right now? Right now, college football is still trying to comprehend how a junior quarterback who didn't have a position two seasons ago has done this. The answer, of course, isn't a foreign one to those who are not new to K-State football.
Klein, a Bill Snyder prototypical player if there ever was one, has followed his coach's outline - weaving
16 core values
into one practice, one snap, one series, one game and now one season - perfectly. His coach sees and appreciates what his signal-caller has accomplished.
"He is all that everyone says he is," Snyder said during his Texas A&M postgame, after a brief pause. "He is a pretty special young guy."
For Klein to get that sort of compliment, from a coach who has in the past been hard-pressed to say something positive about his teams, let alone straight-up nice, it says something.
Actually, it says it all.
******
As the players walked up the ramp toward the KSU locker room after the A&M victory, a father, decked out completely in K-State gear, and his young daughter, dressed similarly and somewhere around age 10 or 11, stood in front of me. The father, beaming, held one of his daughter's arms out in front of her.
"You did it, babe. You touched one of the all-time greats," the dad said. "You're never washing that hand again!"
The entire team had just passed in front of them, so, curious, I wondered who the young lady had come in contact with.
"Sounds pretty exciting," I said. "Who did you get?"
"The coach," the dad said immediately, with his daughter sharing his grin. "She got to touch Bill Snyder. She touched one of the all-time greats."