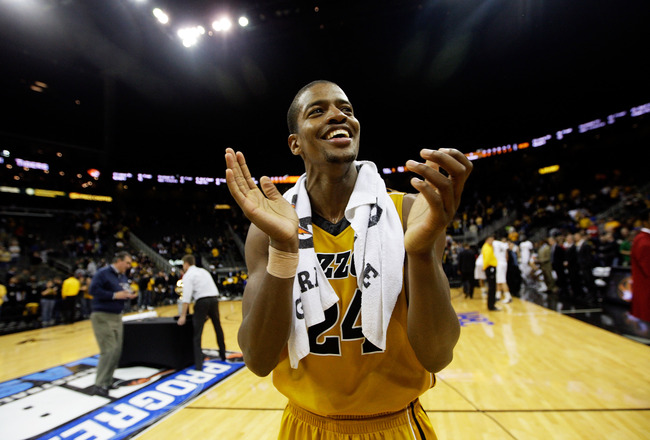 After every team in the Big 12 having had a chance to get out and stretch the legs a bit through a handful of games, some early returns are in. A couple of interesting story lines have developed as the season makes its way into December, and they've helped put some shape to the early part of the year.
1) The Missouri Tigers - Forget best in the conference at this point; there may only be a handful of teams in the nation playing better than the 6-0 Missouri Tigers right now. To be fair, the competition wasn't great, even on paper, for the first three games, so it was tough to tell just how well the Tigers were going. But, when it absolutely wiped the floor with both Notre Dame (before Tim Abromaitis suffered his torn ACL) and No. 23 California in Kansas City, the conference was put on notice. Marcus Denmon has been lights out, and Kim English, well, at this point, there aren't enough good things to be said about how dominant his reemergence has been. With the guards and wings playing at such a high level, it has taken all pressure off of the thin Missouri front court for the time being, though Ricardo Ratliffe is finding life pretty easy in the paint as opponents have had to focus on the outside shooting threat. All in all, while we knew the guards were talented, nobody expected Mizzou to blow the door off the early part of the year in such a fashion.
2) Coaching upgrades - How long does it take for a coach to leave his print on a program? If you're Missouri and Oklahoma, you're seeing it immediately. With the Tigers, Frank Haith has put a system in place that has given Missouri's overall excellent speed a purpose in the half-court, and teams are finding out very quickly its actually harder to guard that than it is covering a team that just wants to "run." I admit I didn't expect much from MU this year, and the season still has the potential to level off, but man, to see Missouri flourish has been something to watch. As I said earlier, it is now speed with purpose. Then again, when the shots are falling like they have so far, any offense can look great.
In Norman, Lon Kruger moved several guys back to their natural positions - something he alluded to doing over the summer. What a novel concept. Between that and the steady play from newcomer point guard Sam Grooms (26 assists to nine turnovers through five games), the Sooners have looked more like a real basketball team (i.e. organized) than they ever did under Jeff Capel. Stephen Pledger has taken to the new style extremely well, averaging 17.8 ppg and being named to the 76 Classic All-Tournament team (OU finished second after falling to national upstart St. Louis and Rick Majerus). The Sooners aren't an overly talented bunch, but with Kruger guiding the ship, OU is quickly becoming one of those teams that, if you're not on your game that night, will be capable of a five-point, unexpected win. Overall, the Sooners have the look and feel of a middle-of-the-pack Big 12 team at this point - far ahead of the preseason bottom finish most predicted.
3) Biggest early disappointment - With the Aggies, the coaching change hasn't proven to be necessarily positive. Not that things can't change in a hurry and be fine moving forward, but in New York, A&M just didn't seem to have that same under-your-fingernails, irritating, dogged style it had under Mark Turgeon. Khris Middleton's absence played a part for sure, but it resulted in two pretty lackluster performances - a 69-60 loss to Mississippi State and a 58-57 win over St. John's. The slow start could also have quite a bit to do with Billy Kennedy's time away from the program as he dealt with his health issues. As a player, it can't be easy to try and prepare in a new system when the guy who knows it best isn't able to be there to teach it to you, but again, it just seems like the attitude isn't quite where it was for the past few seasons.
4) Big men - Several newcomers on the blocks have paid immediate dividends for the Big 12. Transfer Royce White is averaging a double-double (14 ppg, 10.8 rpg) for Iowa State. At Baylor, Quincy Miller has shown why he was one of the most sought-after high school players in the country last year as he currently leads the Bears in scoring (15.2 ppg) and is third in assists. And, though he has been much less flashy and more steadily improving after an average start, freshman Thomas Gipson appears to be settling in and gaining confidence for Kansas State - leading the Wildcats in scoring the past two games after a meager two-point, two-rebound season-opener. And finally, Bill Self said Thomas Robinson was going to have to be an All-American for the Kansas Jayhawks for the team to be competitive this year. We now know why. Yeah, KU can wish that Jeff Withey plays consistently at the level he did against Duke (getting 14 points and 10 boards for his first-career double-double), but the real-life responsibilities absolutely rest with Robinson, who proved he can be what Self has asked for by getting double-doubles against both Kentucky (11 pts, 12 reb.) and Duke (16 pts, 15 reb.).
5) Based on what we've seen, here are five conference games we wish were coming up now:
A) Baylor at Texas A&M (Jan. 2) - We figure A&M's veteran front court will have things ironed out by then. Should be a heck of a contest in College Station.
B) Missouri at Iowa State (Jan. 11) - The Cyclones have made 10 or more 3-pointers in all but one game this season, including a school-record 16 versus Northern Colorado. ISU leads the Big 12 in 3-point field goals (68) and percentage (.442). Put that offense in a home game against Missouri's offense? Can't wait.
C) Kansas State at Oklahoma (Jan. 14) - Frank Martin's team will have a decided athletic advantage. We want to see what Lon Kruger will have cooked up for his alma mater in Norman.
D) Kansas at Kansas State (Feb. 13) - It's a long, long ways from now, and the teams will have played once already, but the freshmen for KSU should be more than settled in by February, and there are several individual match-ups both inside and out, I'm anxious to see.
E) Baylor at Kansas (Jan. 16) - Simply a clash of the front courts in this one. Baylor wants to prove it belongs on top...outperforming KU in Allen Fieldhouse would be a strong foundation for that claim.