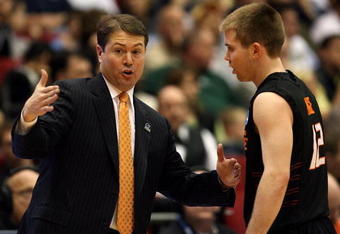 Usually, a coach is able to get into the season, at least a game or two, before fans question his decision making and/or mental state. With Oklahoma State's Travis Ford, however, it's open season for those who want to believe he lost his mind long before his team takes the floor for real on Nov. 11 against Texas A&M-Corpus Christi.
The schedule for his Cowboys suggests insanity.
"It is a very tough non-conference. I hope we can survive it," Ford said. "It could either hurt us, or it could be the difference. It could be something that we look back at and say that really helped us...
"It's a fine line, but there's no question, no denying, it's going to challenge us to say the least."
A pair of trips to Madison Square Garden (first in a Preseason NIT that lacks excellent teams but has plenty to offer OSU; and then a game against Pittsburgh), along with games against New Mexico, Virginia Tech, Alabama and a road contest at Missouri State make up a non-conference minefield. And then, of course, that is followed by the brutal round-robin Big 12 schedule.
For a team trying to rediscover its identity, it's madness.
Or, it could be genius if Ford can piece back together last year's disjointed 20-14 team that never seemed comfortable in its own skin. Marshall Moses led the team in scoring, but there seemed to be an underlying tug-of-war in philosophy between relying on Moses to battle inside, or sticking more to the run-and-gun that better fits Ford's mentality.
Neither worked. Moses did lead the team in scoring (14.3 ppg) and rebounding (7.4 rpg), but had next to nothing in terms of inside help, and when he got into foul trouble, it left a gigantic hole in OSU's chance to win.
Keiton Page
was second in scoring (13.5 ppg), mostly from the outside, but the Cowboys averaged just 68.2 points as a team - ranking them 186th in the nation and 10th in the Big 12 (ahead of only Nebraska and Oklahoma).
Looking back, it made for exactly the kind of so-so feeling the record suggests, and Ford said the disconnected feel and look for OSU was noticeable off the floor as well.
"You know, we'd be here all day," Ford said, when asked what went wrong last year. "They weren't bad kids. It was just we had three or four kids who had their own little issues, had a tough time adjusting.
The 2011 Preseason NIT bracket isn't loaded,
but it will be a good, early measuring stick for Oklahoma State.
"I wouldn't say I'm a hard disciplinarian or anything, but I like things done a certain way. I love the game of basketball and think it should be treated a certain way. I like to practice, and I like individual instruction. I like guys being on time; those types of things. They are pretty important to me. It's important. [It's] just the way I believe and was brought up.
"We struggled with some of that. It wasn't that they necessarily didn't get along, I just don't know if everybody on our team thought everybody was into the team concept and things like that. It was just a lot of little things that turned into big things."
It's early still, but Ford believes the issues were addressed.
"It took bringing some guys in as well as adjusting our own roster after the season," Ford said. "We told guys, 'This is how we're going to do things. We've got to correct this.'
"We were trying to get as many guys to have the same mindset as I have in what they believe in and hard work and team and nobody's more important than anybody else. So far, this group would almost be a poster child for that. It's been pretty good."
Among the new faces is
Le'Bryan Nash
, the second-ranked small forward and No. 6 overall recruit in this year's class according to Rivals.com. The super-talented freshman (whose offense is his main strength according to Ford) will be expected to play a loud role for the Cowboys, even if his personality is exactly the opposite.
"L.B. has got a very laid back demeanor, very quiet," Ford said. "Not quiet as in [former player] James Anderson quiet, but very low-key demeanor. People have labeled L.B. as 'lazy' and things like that before because of his demeanor."
If Nash delivers the way most feel he will, it will provide a much needed creative punch and should open up Page along with incoming freshman
Cezar Guerrero
, who won the long-range competition at the inaugural National High School Slam Dunk and 3-point championship last Final Four weekend in Houston.
Still, questions remain on what sort of inside presence OSU will have. Both Moses and Matt Pilgrim are gone, meaning the bulk of inside responsibilities will likely fall to
Darrell Williams
and incoming junior college transfer
Philip Jurick
. Williams tied Moses for the rebounding team lead, but is listed at 6-8 and started only 12 games. Jurick, a redshirt junior who originally signed to play with Bruce Pearl at Tennessee over West Virginia, Cincinnati and Southern Mississippi, is much bigger at 6-11 and 270 lbs., so the talent appears there. However, the normal question follows: How quickly will he adapt to his new surroundings?
Down the bench, seven-footer
Marek Souček, could provide size in a pinch and will out of necessity, according to Ford.
If Le'Bryan Nash could work the hat into his game this year,
we'd be willing to give him bonus points.
"He's the type of player I would love, if I had the numbers to do it, he would be a redshirt-type candidate," Ford said. "But, I don't think I'm going to be able to do that."
"To be honest with you, I would have picked us where we were or maybe one spot higher, maybe," Ford said. "I wouldn't have picked us any higher than that. With the possibility of being better, we've still got some spots on our team that we've got to continue to get better."
Still, after some of the issues his team faced a season ago, Ford is ready to coach his newest group.
"I like the versatility of this team. I like, hopefully, the depth of it," Ford said. "Depth, you never know. I think this team has some possibilities, but it's that old dangerous word - potential. Our schedule is really tough and plays a role in it. How quickly does Le'Bryan Nash...how quickly can we get him to where he needs to be?
"There's a lot of 'ifs,' but I like this team. I'm excited about this year, and I like this team. I'm not talking about wins and losses...it's for other reasons."